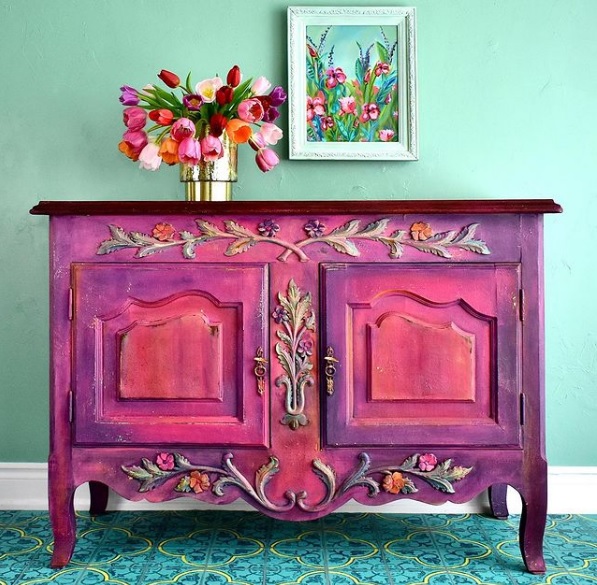 Looking to spruce up your home but have a limited budget? Maybe you have a piece of furniture you like, but it doesn't quite fit in any room. Refurbishing your furniture is a great way to give a space a fresh, new look without breaking the bank. No need to shell out cash for an entire home remodel with all new décor. These easy DIY furniture makeover ideas can be done with your schedule and budget in mind and can act as the perfect creative outlet. All you need is a few basic materials.
---
Strip the Old Paint
The first step is to pick out which piece or pieces of furniture you want to give a new look. This can be anything from your bathroom vanity to dining room chairs, an end table, and more. If there's a specific piece you have in mind but don't own, thrift stores and yard sales are excellent places to look on a budget.
Once you've got your furniture of choice, it's time to strip the old paint or stain. This process is for wooden furniture and requires some elbow grease, as you'll need to use sandpaper or a sander to remove any finishes properly. You can also use a chemical stripper and then scrape off the finish, but this requires wearing heavy-duty gloves. Moving each piece outdoors or to a garage for this step is best, as it creates a lot of dust, debris, and/or fumes.
---
Clean Off the Furniture
Whichever method you choose to use, once the furniture is stripped, it needs to be cleaned off. Sanding leaves a lot of dust residue, so wipe the piece with a damp cloth to remove it. Any leftover dust can cause unwanted texture or flaking in the new coat of paint. If you use a chemical stripper, you'll want to use mineral spirits to clean off leftover chemical traces and debris.
If you're working with non-wooden furniture, give it a good wipe-down with a clean rag and soapy water. You'll want to make sure any dust, dirt, rust, etc., is removed. This will help keep the new coat of paint smooth. This is also an opportune time to make any minor repairs to broken furniture.
---
Add a Fresh Coat of Paint or Stain
Now that your pieces are clean, it's time to let your creative juices flow. Do you want a more natural wood look with a fresh coat of stain? Perhaps you want to make a statement piece with a bright, bold splash of paint? Or maybe you want to play around and give something a rustic or distressed look? The world is your oyster; your style can be as eclectic or down-to-earth as you like.
If you choose to go with a stain on a wooden piece, applying it using a cloth rather than a brush is best. However, if you're going for paint, you can use a paintbrush or spray paint. A paintbrush works well on wooden furniture, but spray paint might work best for other materials where you want a smooth finish. Just be sure to wear protective gear if you decide on the latter.
---
Reupholster Cushions
If you want more than just a coat of paint, another way to jazz up furniture to match your aesthetic is by reupholstering it. This works well for dining chairs, a reading chair, your headboard—anything with a cushion, really. Reupholstering is pretty easy to do yourself. Just keep in mind that the bigger the piece, the more it will cost you in materials.
If this is your first time reupholstering furniture, something small like an ottoman or chair cushion is a good place to start, as it takes less time and is less expensive. Pick an upholstery fabric in any color or pattern that speaks to you. Unscrew the seat, remove the old fabric from the cushion, replace the foam if needed, cover the cushion with the new material, and use a staple gun to attach it. Depending on the size of the fabric, you can trim any excess. Screw the seat back on, and voila! You have a swanky new cushion.
---
Add More of Your Own Flair
Still think your furniture needs a little something more? Another inexpensive way to highlight a piece is by updating the hardware on cabinets and drawers or slapping on a decal. While new cabinets are expensive, new hardware isn't and can make a world of difference.
You can find hardware in just about any style to suit your tastes. And a decal is an easy way to add a print or pattern to furniture without hand painting it. Not all of us have the patience for fine details, and that's ok. Transfer decals come on a roll of contact paper. Some are just peel and stick, while others need to be soaked in warm water before applying.
---
Store Extra or Unfinished Pieces
If you've been hit with the DIY bug and upcycling furniture is your new side gig, you might find you're quickly running out of room in your home. If you need a separate space for your new hobby, then Prime Storage has the solution. We offer drive-up, indoor, and climate controlled storage at select facilities nationwide. Chances are, there's one near you.
So, keep your home clutter-free and store any excess furniture with us. You'll still be able to get to your stuff with our extended access hours, available seven days a week. Plus, with a wide range of unit sizes available, you can select the perfect storage unit for your DIY needs.