Sometimes a move is anxiously awaited and planned because of a graduation, promotion or fresh start. Other times, a move might be unexpected after your plans changed at the last minute.
Whatever the reason, life events can be everywhere from blinding and sudden to slow-moving and approaching. When you move out, move on, or move into the next stage of your life, it becomes time to ask a couple of important questions: Do you have enough money saved before leaving? How do you tell your landlord you're moving out? What are the home essentials?
Prime Storage sees you, because we know that Life Demands Space®. We want you to know you're not alone, and we've got the storage space when you need it. For that reason, we've put together a list of answers to some of the most pressing questions you might have.
How Much Should You Save Before Moving Out?
Conventional wisdom suggests that before moving out, you should have a consistent income that is three times higher than wherever you intend to move. A lot of apartment complexes, for example, will perform an income check on you to ensure you make at least 3 times however much they expect you to pay each month. This is done with the assumption that you'll have other bills to pay, and they want to make sure you have ample money to pay your bills, your rent, and your other living expenses.
We also recommend having at least 3-6 months of your projected rent saved in the bank. Landlords will frequently require an upfront payment of your first and last month of rent before they'll let you move into your new home. At the same time, you must consider how much your utilities, such as water, electricity, internet, and additional parking, may cost.
How to Tell Your Landlord You're Moving Out
This conversation may be easy or difficult, depending on the terms of your lease and the personality of your landlord. If you're leaving earlier than detailed in the lease you signed, you should expect some hefty fees for breaking that lease. These are usually outlined in the lease agreement, and can range anywhere from 2-6 months of rent, possibly more, as an upfront breaking fee. In other words, breaking your lease may cost you several thousands of dollars.
Whether an email or physical piece of paper, a common practice for notifying your landlord that you intend to formally end your stay with them is to provide a notice to vacate, outlining when you will be leaving. You must complete one of these even under normal circumstances, and usually no later than 30 or 60 days before the last day, as specified on your lease. Landlords require notice so they have a window of time to fill the vacancy you'll create when you leave.
Every apartment is different. Just be sure to read up on the requirements beforehand.
Home Essentials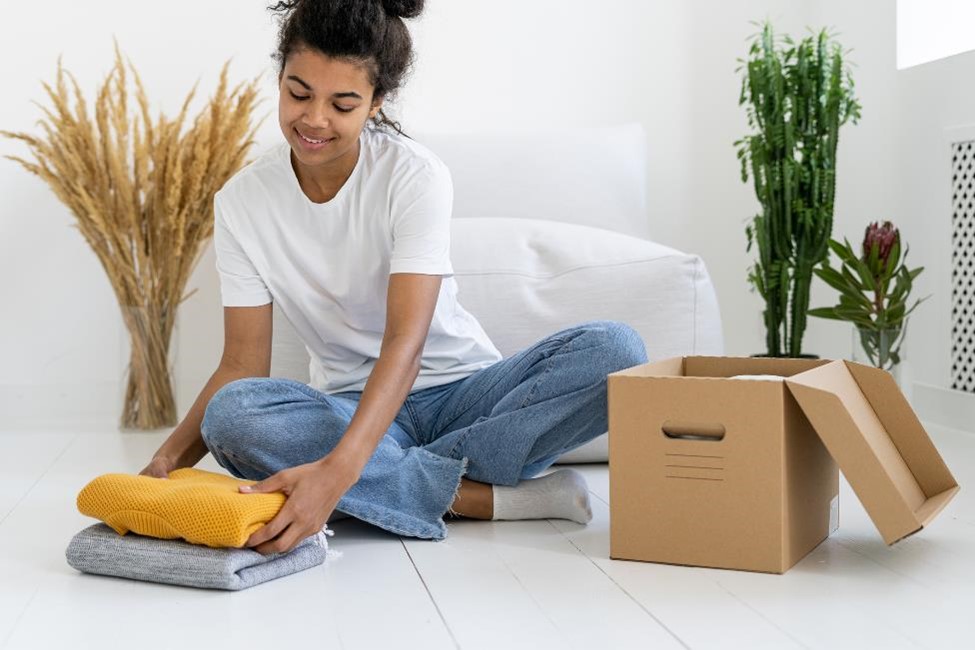 If you just moved and are on a budget, it makes sense that you'd prioritize the home essentials before anything else.
So, what do you need to call a home a home? Most people start with the bed
After the bed, make sure you have what you need to prepare food. This can include food itself, but also things like:
Utensils
Stove/oven
Microwave
Refrigerator/freezer
Plates
Silverware
There are a lot of specific tools and appliances you may need to create more dynamic and varied meals, but you need surprisingly little to prepare basic meals. A can opener, a fork and spoon, and a stove top can take you a long way while you work on upgrading your kitchen.
With food and a bed covered, you may turn your attention to lighting and other basic electronics so you can continue to work at night and charge your electronics. In modern society, a computer and phone are almost necessities to operate professionally and socially, so it will likely be a priority to establish reliable access to both.
Quality Self Storage Near You
Whatever reason you have for your sudden life transition, sometimes you can find yourself overwhelmed with the amount of belongings you have to move. Prime Storage can make a big difference in giving you a little more space at an affordable rate. If you have a lot of belongings, but no space for it in your new living arrangement, let Prime Storage help you.
With excellent customer service and a variety of storage unit sizes, we are equipped to accommodate you where you are. Give us a call at 888.846.6503, or contact us with any questions you may have. Let's work together to make this next step in your life journey a bright and hopeful one.